About Us
Cripple Creek Hat Company was founded in 1975 by Paul Siracusa, who is still the president and still selects and designs all Cripple Creek® hats.
Drawing on his previous career as an archaeologist, Paul started with his famous "critters" designs that became showbiz favorites. These hats, similar to the ones in our Collectible Creations section, used animal artifacts and other natural materials to create a look that is unmatched by any other hat style.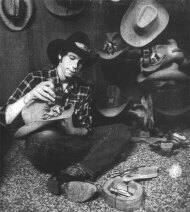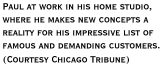 These unique creations were soon noticed by costume designers, and Cripple Creek hats began to appear on stage and in movies. Many celebrities have donned Cripple Creek hats. (One even sits in the Country Music Hall of Fame in Nashville!)
Paul wanted his work to be available to more than just the rich and famous, so he designed a line of high-quality, affordable hats that combined the classic cowboy and outdoors look with accents such as coins, fur, feathers, and textured leather for sale in fine apparel outlets. Cripple Creek hats are most popular in the American West, or wherever people value the same, uniquely rugged yet stylish look.
This website, founded in 2001, is the next step in Paul's effort to bring his creations to a wider audience. We hope you enjoy it.